To purchase the Power-Equilab, please follow these simple three steps:
Step 1: Choose your preferred license-model in the list below.
Step 2: Transfer the corresponding amount via FastSpring payment. During the payment process, you have to enter the Machine-Code of your computer.

The Machine-Code is shown in the Power-Equilab under [Help/About...]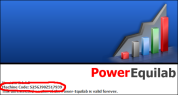 or in the Purchase-Dialog.

Step 3: Your personal version of the Power-Equilab will be activated within a few hours. You only have to restart the Power-Equilab. If you indicate an email-address during the payment process, you will receive an confirmation as well.
License Options

License



Price
PCs
Purchase

2 weeks Trial


FREE
1

No further registration necessary
Free Download

1 month
(recurring)

4,95$
(4,95$/m)

2
2 month
(recurring)
8,95$


(4,47$/m)

2
6 month
(recurring)
23,95$


(3,99$/m)

2
12 month
(recurring)
41,95$


(3,49$/m)

2
Prices include VAT for EU customers.
A Power-Equilab license will entitle you to register Power-Equilab on two computers (You must be the owner of both computers. It is not permitted to share a license with other people. Both PC must be at the same location).